Includes a list of characters, actors and production crew members whose first names are Theo.
Jeremiah
Edit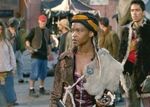 Theo is a recurring character featured in the Showtime television series Jeremiah. Played by actress Kim Hawthorne, she first appeared in the pilot episode of the series, "The Long Road (Part 1)". She made eight appearances in the series in total.
Ad blocker interference detected!
Wikia is a free-to-use site that makes money from advertising. We have a modified experience for viewers using ad blockers

Wikia is not accessible if you've made further modifications. Remove the custom ad blocker rule(s) and the page will load as expected.