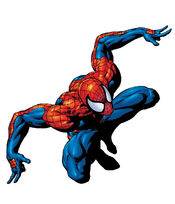 A superhero is a character who is noted for feats of courage and nobility and who usually has a colorful name and costume which serves to conceal their true identity, and abilities beyond those of normal human beings. A female superhero is sometimes called a superheroine, although this term has fallen out of favor in the modern era.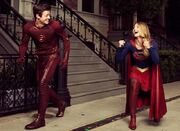 The word superhero originated with Superman, who debuted in 1938, and the stories of superheroes - ranging from episodic adventures to decades-long sagas - have become an entire genre of fiction that has dominated American comic books and crossed over into several other media.
A subsection of superhero is the anti-hero, which came to prominence in the mid 1970s and represents a character who is equally dedicated towards fighting injustice as any other hero, but may not necessarily share the same moral code as a traditional superhero. Anti-heroes are often flawed characters, burdened with the responsibility of their cause, who often demonstrate sociopathic tendencies. In comic books, one of the most well-known examples of an anti-hero is the mutant adventurer, Wolverine. Frank Castle, also known as the Punisher, is often labeled as an anti-hero despite the fact that most of his actions actually categorize him more as a villain. Another questionable character is the mysterious V from V for Vendetta, whose actions brand him as a terrorist, but he is also selfishly motivated to pursue revenge against the totalitarian hierarchy that destroyed his life.
Examples
Edit
| Character | Source |
| --- | --- |
| Angel, Thomas Halloway | Marvel Comics |
| Battlestar, Lemar Hoskins | Marvel Comics |
| Doctor Fate, Kent Nelson | DC Universe |
| Doctor Fate, Khalid Nassour | DC Universe |
| Doctor Mid-Nite, Pieter Cross | DC Universe |
| Green Flame, Beatriz da Costa | DC Universe |
| Guardian, Jim Harper II | DC Universe |
| Isis, Andrea Thomas | Secrets of Isis |
| Kid Flash, Wally West | DC Comics |
| Miss America, Madeline Joyce | Marvel Comics |
| Miss Martian, M'gann M'orzz | DC Universe |
| Patriot, Jeffrey Mace | Marvel Comics |
| Patriot, Elijah Bradley | Marvel Comics |
| Robin, Dick Grayson | DC Comics |
| Speedy, Roy Harper | DC Comics |
| Starman, Theodore Knight | DC Comics |
| Starman, David Knight | DC Comics |
| Starman, Jack Knight | DC Comics |
| Tigra, Greer Grant Nelson | Marvel Comics |
| U.S. Agent, Johnny Walker | Marvel Comics |
Ad blocker interference detected!
Wikia is a free-to-use site that makes money from advertising. We have a modified experience for viewers using ad blockers

Wikia is not accessible if you've made further modifications. Remove the custom ad blocker rule(s) and the page will load as expected.