Includes a list of characters, actors and production crew members whose first names are Steve.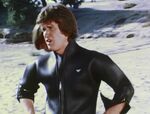 Steve was a minor character featured on the Saturday morning superhero series The Secrets of Isis. Played by actor Brian Byers, he appeared in the 14th episode of season one titled, "Scuba Duba".
Another character named Steve was also featured on The Secrets of Isis. He was played by actor Brad David and appeared in the second episode of season two, "The Hitchhikers".
Ad blocker interference detected!
Wikia is a free-to-use site that makes money from advertising. We have a modified experience for viewers using ad blockers

Wikia is not accessible if you've made further modifications. Remove the custom ad blocker rule(s) and the page will load as expected.