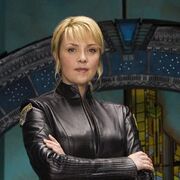 A scientist is one who studies and/or works in the field of science, usually specializing in a particular branch of study. This may include physics, astro-physics, genetics, biology, marine biology, chemistry, etc. In science fiction, it is not uncommon for a scientist to perceive their work as the sum-total of their existence, even to an obsessive and often dangerous degree. When the obsession to further the reaches of man's understanding of the universe takes precedence over the common good and/or any accepted code of ethical conduct, then one may find themselves branded with the label of "mad scientist".
Nazis in particular where known for this type of silliness and were always trying to cobble together some extreme experiment that might further their goals. Of course when it comes to the cream of the crop of mad scientists, one need look no further than the mountains of Switzerland where they might hear tales of an ambitious young buck from Geneva named Victor Frankenstein, who succeeded in creating new life from the sewn together body parts of cadaver using biochemical processes.
Fields of study
Edit
Arachnology

Arachnology is the study of spiders. It is comparable to the field of entomology, which is the study of insects. Joshua Taft was an arachnologist from Prosperity, Arizona in Eight Legged Freaks. He gave instruction on teh subject to young Mike Parker.
Botany

Botany is the study of plants. Doctor Wilfred Glendon from Werewolf of London was a botanist.
Geology

Geology is the science and study of the solid Earth and the processes by which it is shaped and changed. Geology provides primary evidence for plate tectonics, the history of life and evolution, and past climates. In modern times, geology is commercially important for mineral and hydrocarbon exploration, is publically important for predicting and understanding natural hazards, plays an essential role in geotechnical engineering, and is a major academic discipline. One who studies geology is called a Geologist.
Zoology

Zoology is a sub-section of biology that relates specifically to the study of specimens of the animal kingdom. It examines such traits as cell biology, evolution, behavior and anatomy. Those who study zoology are called zoologists. Zoologists may also be veterinarians, but there is a difference between the two in that zoologists do not necessarily have the skills to treat animals medically or perform surgeries. Zoos will often employ zoologists in the assistance of caring for the animals in their charge.
Characters
Edit