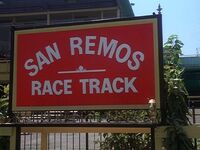 The San Remos Race Track is a fictional business featured in the CBS television series The Incredible Hulk. It appeared in episode 2x05, "Rainbow's End".
The San Ramos Race Track was a horse race track and farm owned and operated by Lawrence Henry Carroll, III. Its exact location is unknown, but it was likely situated somewhere in southern California. Its most prized race horse was Rainbow's End, who had distinguished itself by racing in the Kentucky Derby. David Banner came to San Remos to inquire with Thomas Logan about reports of his alleged "miracle vitamin", which he had used to calm down wild horses. He operated under the alias David Bishop at this time.
The top rider at San Remos was Andy Cardone. However, when it came time to race, Andy fell ill. Andy's friend, Kim Kelly took over for him. Kim's father, Jimmy Kelly tried to shoot Rainbow's End during the race (unaware that his own daughter had taken over as jockey). When Banner spotted him on the roof of the stadium, he turned into the Hulk and ran up to the roof of the building. He threw Jim Kelly onto the ground and pitched his rifle across the sky.