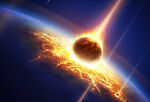 A meteor, or meteoroid, is a sand- to boulder-sized particle of debris in the Solar System. The visible path of a meteoroid that enters Earth's (or another body's) atmosphere is called a meteor, or colloquially a shooting star or falling star. If a meteor reaches the ground and survives impact, then it is called a meteorite. Many meteors appearing seconds or minutes apart are called a meteor shower. Meteors typically occur in the mesosphere, and most range in altitude from 75 km to 100 km. Millions of meteors occur in the Earth's atmosphere every day. Most meteoroids that cause meteors are about the size of a pebble.
See also
Edit
Ad blocker interference detected!
Wikia is a free-to-use site that makes money from advertising. We have a modified experience for viewers using ad blockers

Wikia is not accessible if you've made further modifications. Remove the custom ad blocker rule(s) and the page will load as expected.