Letterers are responsible for drawing the comic book's text. The letterer crafts the comic's "display lettering": the story title lettering and other special captions and credits that usually appear on a story's first page. The letterer also writes the letters in the word balloons and draws in sound effects. The letterer's use of typefaces, calligraphy, letter size, and layout all contribute to the impact of the comic. Many letterers also design logos for the comic book company's various titles.
Letterers
Edit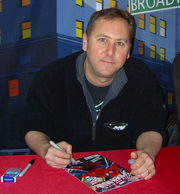 See also
Edit
Ad blocker interference detected!
Wikia is a free-to-use site that makes money from advertising. We have a modified experience for viewers using ad blockers

Wikia is not accessible if you've made further modifications. Remove the custom ad blocker rule(s) and the page will load as expected.