Includes a list of characters, actors and production crew members whose first names are Daniel.
Variations include Dan, Danny; See also, Danielle
The Walking Dead
Edit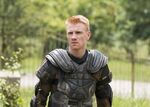 Daniel was a young Caucasian male in his early twenties. He had a slender build and short red hair. He was residing in the U.S. state of Virginia during the years following the zombie apocalypse. Daniel became a member of a survivalist colony located at The Kingdom, which was led by a very theatrical man named Ezekiel. Daniel was one of Ezekiel's soldiers, along with Richard, Benjamin and Dianne. He often traveled on horseback and wore protective body armor whenever he ventured outside the Kingdom's walls.
Other characters
Edit
Production Crew
Edit
Dan DeCarlo - Creator of Josie and the Pussycats and Sabrina, the Teenage Witch.
Ad blocker interference detected!
Wikia is a free-to-use site that makes money from advertising. We have a modified experience for viewers using ad blockers

Wikia is not accessible if you've made further modifications. Remove the custom ad blocker rule(s) and the page will load as expected.